CHOOSE THE PLAN THAT'S RIGHT FOR YOU
Unlimited game-speed training in Virtual Reality against 600+ pitchers, swing analysis, expert coaching, and a mobile app to track your progress.

Try WIN risk-free with our 30-day money back guarantee.
GIVE THE GIFT OF WIN REALITY
Get a membership code you can gift! The hitter in your life will redeem it and set up their own account. Their membership won't start until they are ready to go.
How it works:
When selecting your plan, make sure the gift toggle is set to YES.
After checkout, the membership code will appear on your confirmation page.

Provide the code to your giftee. They can redeem at

winreality.com/redeem

and then set up their own account. Membership won't start until they do so.
HOLIDAY BUNDLE: save $231
1 year WIN Membership – train at home, any time, any weather
Choose a Free Short Bat or a Free Bat Attachment at checkout!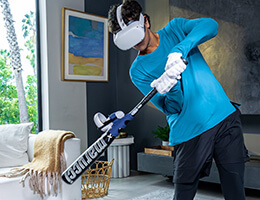 Monthly WIN Membership – train at home, any time, any weather
HOLIDAY BUNDLE
: save $280
1 year

Monthly

WIN Membership
 – train at home, any time, any weather
Live Expert coaching, Small group sessions with a hitting coach
Choose a Free Short Bat or a Free Bat Attachment at checkout!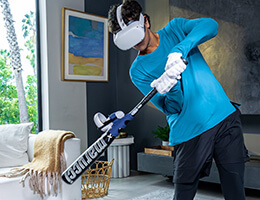 TRUSTED BY PROS.
DESIGNED FOR ALL.
Paul Goldschmidt,
2022 MVP &
WIN customer
You need to find a way to practice the strike zone.
Before WIN Reality, you had to do it in a cage."
Paul Goldschmidt's average stats after making WIN Reality a part of his training
You can use your own bat in VR with the Bat Attachment, take full swings with the Short Bat, or just use the controllers that come with the headset.
The Short Bat is just what it sounds like: a shortened bat. It holds a controller and allows you to comfortably take full swings at home. The Short Bat improves the experience, but is not required.
Free with the yearly plan. Purchase required with the Monthly plan.
Add the bat attachment for the most realistic hitting experience. This allows you to use your own bat with your VR controller. Designed to fasten securely on all baseball and softball bats. Set up in minutes.
Free with the yearly plan. Purchase required with the Monthly plan.
Swing with your controller
The app delivers pitches and tracks your movements using the controllers that come with the headset.
Meta Quest headset purchased separately. Not included with WIN membership.
UPGRADE YOUR TRAINING WITH WIN PRO COACHING
Group coaching sessions with a real hitting coach

Get expert guidance from our pro hitting coaches in small group training sessions twice a month. Focus on developmental skills integral to hitting. Each session includes 5 or fewer players at a similar age and level.
Chat with your coach

Have a question about hitting or the game? Your WIN hitting coach is there for you. Whether you want to chat about an upcoming game, get advice on a hitting slump, or talk through a mechanical change, your WIN hitting coach is just a text away.  
Live training sessions and competitions

A little competition can accelerate improvement. Participate in virtual community events, challenges, contests, and hitting camps created and run by WIN coaches. A coach leads each session, focusing on a specific skill, including a final hitting competition.
WIN coaches are former baseball and softball players who have competed and coached at the highest levels. They understand player challenges and have worked with athletes of all ages. In addition to mechanics, they help enhance your mental game and work ethic.
Played college softball at Hill College. Her passion and enthusiasm make hitting lessons not only productive, but also fun
Played D1 college baseball at Georgia Southern University. Always comes up with new drills and competitions
Was an All-Conference outfielder and pitcher at Spalding University. Has a coaching background with kids of all ages
Played professionally for the world famous Savannah Bananas, played college ball at Eckerd College
Played his college ball at Averett University. Longest tenured coach at WIN Reality
Played his college ball at Milligan University. Excelled on the field and in the classroom
Trusted by 100,000+ pro & amateur players
I put the goggles on and it was the craziest thing I've ever seen. I stood in the batter's box and watched them pitch to me.
I have yet to encounter a product that even vaguely produces the results the WIN Reality system has delivered. We are seeing immediate results.
WIN Reality has given my daughter's softball program a huge edge. Everyone is seeing over a hundred pitches per day, it's been incredible.
Love this product. I've seen over 1,700 pitches in a week. It's so important to see velocity and pitches.
As soon as I put the headset on I knew this was my ticket. I started to see the ball better and making good contact. Without WIN I wouldn't be where I am today.
You're giving my son new skills and a fun experience, while saving me time and money relative to in-person lessons. You guys are really onto something here!
WIN played a crucial role in maintaining my confidence during my one-month injury. I seamlessly continued to practice live at-bats. When I returned, I quickly got back to my groove.
It feels very realistic. It recreates the hardest part of the game to recreate: pitching. Where it is today is an excellent product.
Every hitter should be a WIN Reality member. You will never know how good you can be until you make WIN Reality a part of your DNA.
This is a part of training we've dreamed about providing for our team and WIN has made it happen! This is going to be a staple in the daily development of our hitters.
This program is absolutely why Braedon hit .448, only struck out 8 times in 102 plate appearances, and moved up from #7 to the #2 spot in the lineup.
This is like a cheat code. Everyone should be using WIN.
How does it work?

WIN Reality uses virtual reality to deliver a variety of workouts and training modes that help you improve every aspect of your game: timing, plate discipline, pitch recognition, contact, and power. Get started with a Meta Quest 2 or Meta Quest 3 headset and a WIN Reality membership. Just download the WIN Reality app to your headset and log in with your member information. Having a WIN Reality mobile app, Short Bat or Bat Attachment is helpful but not required.
Is WIN Reality right for my age and skill level?

WIN Reality is effective and safe for baseball and softball players of all ages. The app offers a wide range of velocity and workout skill levels, all easily tailored to you. With age-appropriate stadiums, mound distances, and a 600+ pitcher library to choose from, WIN Reality drives results for players just getting started to MVP winners in the majors.
Is WIN Reality unlimited?

Yes. WIN memberships include unlimited use of both baseball and softball, so you can train when you want, as often as you want, from wherever you want.

What will my coach think about me using WIN Reality?

WIN Reality is used and recommended by coaches, teams, and academies at all levels. Many coaches we work with report that players who use WIN Reality progress faster and increase their batting average faster than those who do not. If you're serious about becoming a better hitter, WIN offers 1-on-1 coaching with former pro and college players.
Can I use WIN Reality to train specific skills or weaknesses?

Yes! With a WIN Reality Membership, you can tailor your sessions to focus on whatever part of your game you want! Target skills like improved timing against higher velocity or follow our recommended workouts based on your skill level. You'll get instant feedback and be able to track your progress over time.
Does WIN Reality offer baseball and softball?

Yes. All WIN Reality memberships include unlimited use of both baseball and softball training.
How often should I use WIN Reality?

WIN Reality provides the best results when used consistently. Using WIN for just 15 minutes a day will help players develop skills like plate discipline 7x faster than those who don't.
I have multiple ballplayers. Can they all share the same subscription?

Yes! You can add multiple player profiles so siblings (and even parents!) can train together and measure their progress.