Unlimited game-speed reps
One of the most difficult parts of baseball training is recreating game-like conditions. Especially game-speed velocity! With WIN, you get quality and quantity with your training: you can see more game-speed pitches in a week than most major league players experience in an entire season.
You can use your own bat in VR with the Bat Attachment, take full swings with the Short Bat, or just use the controllers that come with the headset.
Use it with the Short bat
The Short Bat is just what it sounds like: a shortened bat. It holds a controller and allows you to comfortably take full swings at home. The Short Bat improves the experience, but is not required.
Free with the yearly plan. Purchase required with the Monthly plan.
USE IT WITH YOUR OWN BAT​
Add the bat attachment to experience the most realistic hitting experience. This allows you to use your own bat with your VR controller. Designed to fasten securely on all baseball and softball bats. Set up in minutes.
Free with the yearly plan. Purchase required with the Monthly plan.
Use with your controllers
The app delivers pitches and tracks your movements using the controllers that come with the headset.
The Meta Quest headset is bought separately and is not included with WIN membership.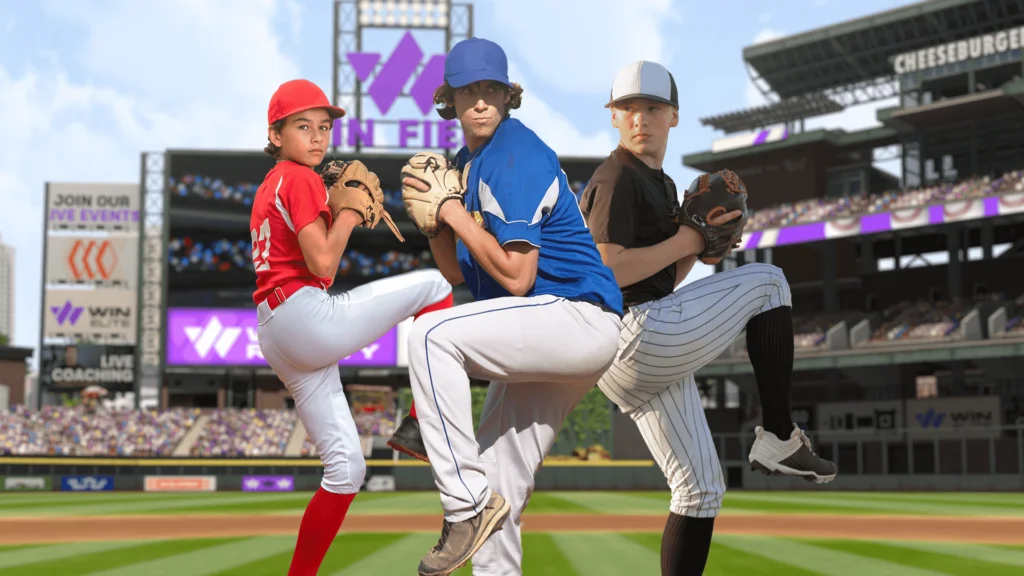 A MASSIVE LIBRARY OF PITCHERS
Train with pitchers of all levels
With 600+ pitchers to choose from, you can face velocities from 40-100+ mph, see any pitch type you can imagine, and train against righties and lefties from any arm angle. WIN uses actual pitch data and pitcher windups to provide a challenging and realistic hitting experience.
BECOME A BETTER CLUTCH PLAYER
There's a full count, the bottom of the ninth, and your team is down. You have three outs to bring home the win. Are you ready? That's what Exhibition mode is all about: putting you in the hot seat and training you for stressful situations so you're ready when the time comes.
Compete and train with other players
Join multiplayer sessions with players of your skill level in our live lessons and competitions hosted by a college or pro hitting coach.
Focus on strengths and opportunities for improvement
Use targeted workouts and training modes to prepare for various in-game situations. Get comfortable with challenging counts. Work on specific pitches. All to the same end: raising your hitting IQ.
Built to make you a better hitter
Personalized, AI-powered workouts

Jump right into personalized workouts designed by professionals that translate to better hitting. WIN uses an AI-recommendation engine to tailor workouts to each player based on their profile and skill level. As you train, we also factor in your WIN stats.
Immediate feedback

The quicker you receive constructive criticism, the faster you improve. After each pitch and training session, you'll see real-time results, so you know how you stack up and where you need to improve.
Scouting reports and trendlines

Track your progress with the player dashboard. You'll see stats for every pitch you see and for every training session you complete.
WIN Reality by the numbers
Accelerate improvement. If someone told you that you could accelerate learning by 700% you'd do it, right? WIN Reality helps players acquire skills seven times faster than traditional training methods alone.
Become a better clutch player. 97% of WIN Reality users surveyed felt better prepared for high-pressure game situations.
Help your team. Teams that train with WIN Reality win more games! They average a 23% increase in their winning percentage.

How does it work?

WIN Reality uses virtual reality to deliver a variety of workouts and training modes that help you improve every aspect of your game: timing, plate discipline, pitch recognition, contact, and power. Get started with a Meta Quest 2 or Meta Quest 3 headset and a WIN Reality membership. Just download the WIN Reality app to your headset and log in with your member information. Having a WIN Reality mobile app or Bat Attachment is helpful but not required.
Is WIN Reality right for my age and skill level?

WIN Reality is effective and safe for baseball and softball players of all ages. The app offers a wide range of velocity and workout skill levels, all easily tailored to you. With age-appropriate stadiums, mound distances, and a 600+ pitcher library to choose from, WIN Reality drives results for players just getting started to MVP winners in the majors.

Is WIN Reality unlimited?

Yes. WIN memberships include unlimited use of both baseball and softball, so you can train when you want, as often as you want, from wherever you want.

What will my coach think about me using WIN Reality?

WIN Reality is used and recommended by coaches, teams, and academies at all levels. Many coaches we work with report that players who use WIN Reality progress faster and increase their batting average faster than those who do not. If you're serious about becoming a better hitter, WIN offers 1-on-1 coaching with former pro and college players.
Can I use WIN Reality to train specific skills or weaknesses?

Yes! With a WIN Reality Membership, you can tailor your sessions to focus on whatever part of your game you want! Target skills like improved timing against higher velocity or follow our recommended workouts based on your skill level. You'll get instant feedback and be able to track your progress over time.
Does WIN Reality offer baseball and softball?

Yes. All WIN Reality memberships include unlimited use of both baseball and softball training.
How often should I use WIN Reality?

WIN Reality provides the best results when used consistently. Using WIN for just 15 minutes a day will help players develop skills like plate discipline 7x faster than those who don't.
I have multiple ballplayers. Can they all share the same subscription?

Yes! You can add multiple player profiles so siblings (and even parents!) can train together and measure their progress.